Winter Warriors
Weather plays a huge role in the life of a biker. It is recommended to check the weather forecast before starting out on your day if you are riding. This helps in preparing for the day mentally, carrying the right gear depending on the conditions and also to rethink your decision to bike if weather conditions are adverse especially in the winter.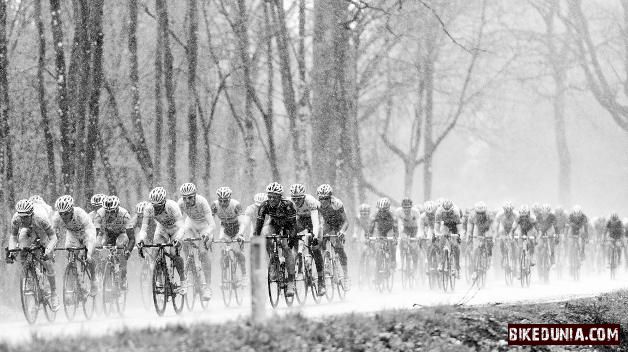 Braking and Gripping
Biking in winter is not recommended for beginners, it requires advanced skill levels and precautions to be taken. First off you need a good bike with gripping tires specifically designed for winter. Proper care must be taken to make sure the brakes are in good condition though it is not recommended to brake hard in winter. Even while riding you could check the brakes occasionally as this would prevent build up of water, ice or frost on the rims. Brake to slow down before turns as wintertime brings a lot of action at the turns. A cold day after a snowfall can cause black ice to be formed on the road and it is dangerous to attempt to brake without a proper grip. While braking, using rear brakes are recommended to avoid sudden skidding and slipping. Wider winter tires which are smooth, soft and studded are ideal. Tires having a little less than normal air pressure tend to perform better in the winter as they sit on the floor and grip better. Grips on pedals are also important since the better the grip, easier it is to pedal. Having a slippery pedal can waste your time and energy while riding and could irritate and distract you. Choosing appropriate gloves which keep your hands warm and providing adequate grip on the handlebar should be at the top of your priority list in the winter. You could also choose ones having impact protection if it makes you feel safer.
Taking care part by part
Bikes which come with sealed bearing units last longer in the winter remaining dry and devoid of any corrosion. Good mudguards/fenders are essential in helping to make the bicycle parts last longer as they would not allow other parts of the bicycle to be affiliated with dust and water as much. Make sure you have a seat cover which does not get very cold and is waterproof. Carry two pieces of cloth with you if possible, one which repels water and helps clean the bike and one which absorbs water which can be used on parts like seat cover and handlebar grip. Lightweight bike covers are also available which can cover the bike and help prevent the accumulation of water or ice particles. This is required only if you are stopping somewhere for long and have to leave the bike outside. This is normally not the case when you bike in the winter though. But if you do leave it outside, remember to remove electronic gadgets attached that could get short-circuited by water accumulation.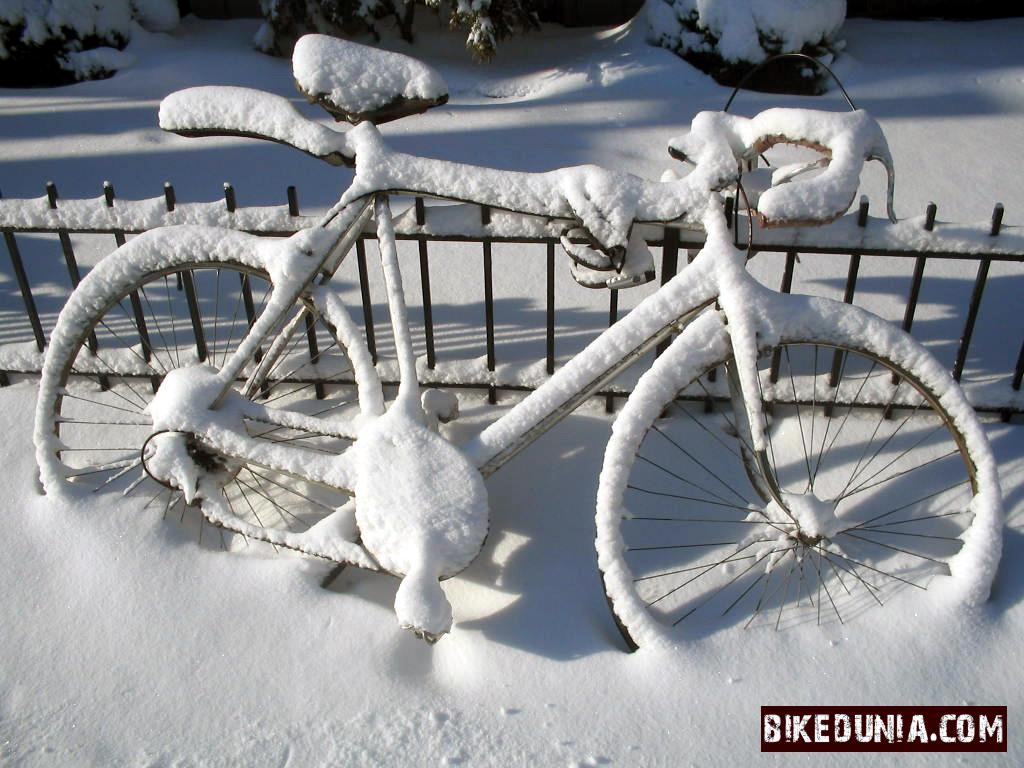 Before and after
Winter rides can make your bike very dirty and accumulate a lot of dirt. So try washing your bike after every ride if you want to make your bike last for long. Lubricate the bike properly by using lubricating oils accordingly. Commonly used degreaser lubricant WD40 should not be used for this purpose but their bike specific sprays are available nowadays which could be used. WD40 can be used after cleaning bike and before taking out for a ride again as it forms a coat which helps prevent accumulation of dirt. The moisture can have an impact on the friction of moving parts so try keeping your bike dry.
Mimicking nature's defenses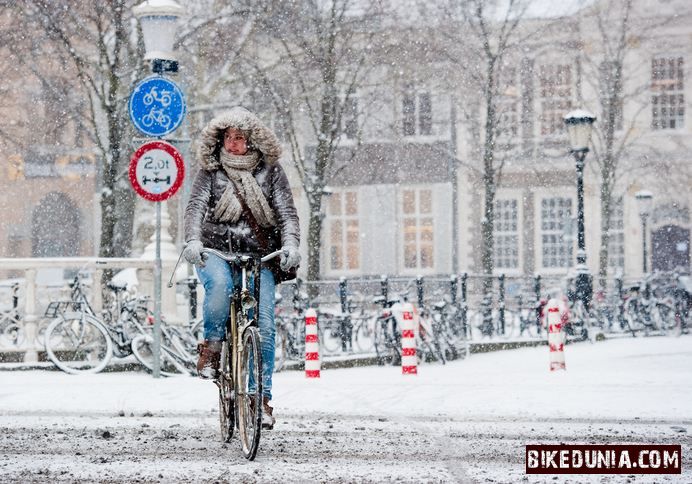 The type of clothes you wear should be given prime importance in winter. Try wearing a comfortable inner layer which keeps you warm, with layers over it for more insulation, windbreaking and waterproofing. Good gloves which offer grip and warmth are essential. Carry an extra pair of light gloves which offers grip and can be worked with in case you have to change a break cable or chain. You could also use both gloves if you feel it's getting really cold. Try to use good quality goggles which are shatterproof, glare-proof, prevents accumulation of fog and give you protection from ultraviolet radiation. Wear overshoes or Neoprene shoes on top of your regular shoes if it is not sufficient in waterproofing and protecting your feet from the cold. Wear good socks and innerwear with wicking properties. Thermal socks though may keep you warm, but cycling for long can make excessive heat accumulate on your feet making them sweaty. This can freeze inside after cold air passes through your shoe, so wear decent socks and carry an extra pair if you feel necessary. Wear a sports cap or a skull cap under your helmet to help keep your head warm and functioning properly. If you are a mountain man with thick facial hair or look similar, you could avoid wearing a balaclava, otherwise wear one.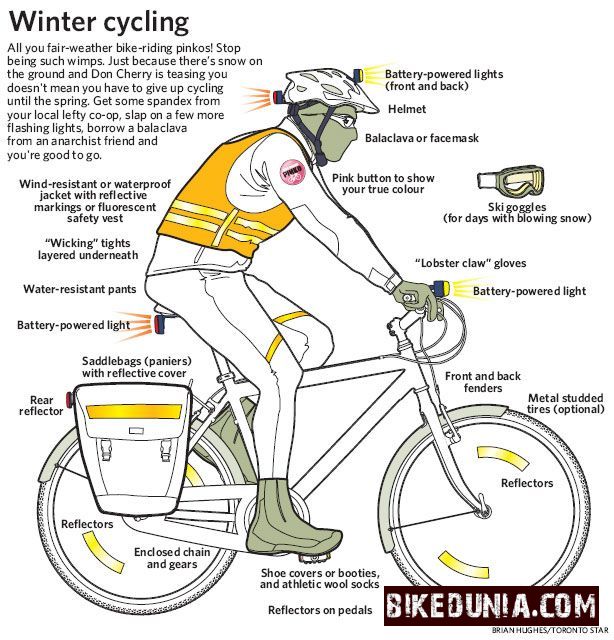 Body first
Take care of your body well if you are planning on riding in the winter. Doing warm-up exercises and stretching before and after can help with sore muscles and reduce the probability of getting injured. Eat well and hydrate in the right magnitude keeping an eye on hyponatremia(over-hydration leading to loss of electrolytes). Applying warm oil(coconut, mustard) to your body and washing it off with a hot shower after a long ride helps in blood flow, reduces friction in your joints and relaxes your muscles.
Also remain moisturized all over by using good moisturizing creams, lip balms etc.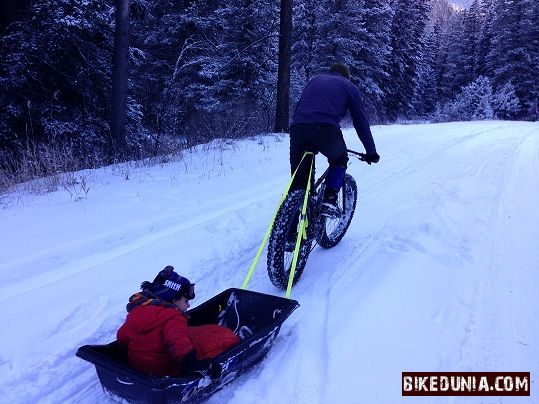 Practice safe riding in the winter. Most people who ride in the winter may not be the ones who need to get somewhere quick and using a bike as their only option. Riders who consider the challenge it offers and ride to improve upon their skills prefer biking in the winter. Carry a hot beverage Being in a hurry could only get you seriously injured or killed in the winter. Ride slow, get off the bike and walk if you don't feel comfortable through a patch and brake slow and in advance. Avoid riding on top of metal objects like manholes, tracks and slippery places like plastic markers, painted lines. Ride through previously ridden tracks or the road which would grip better, but create your own path if you have to, well someone gotta do it first and clear a path for others to follow.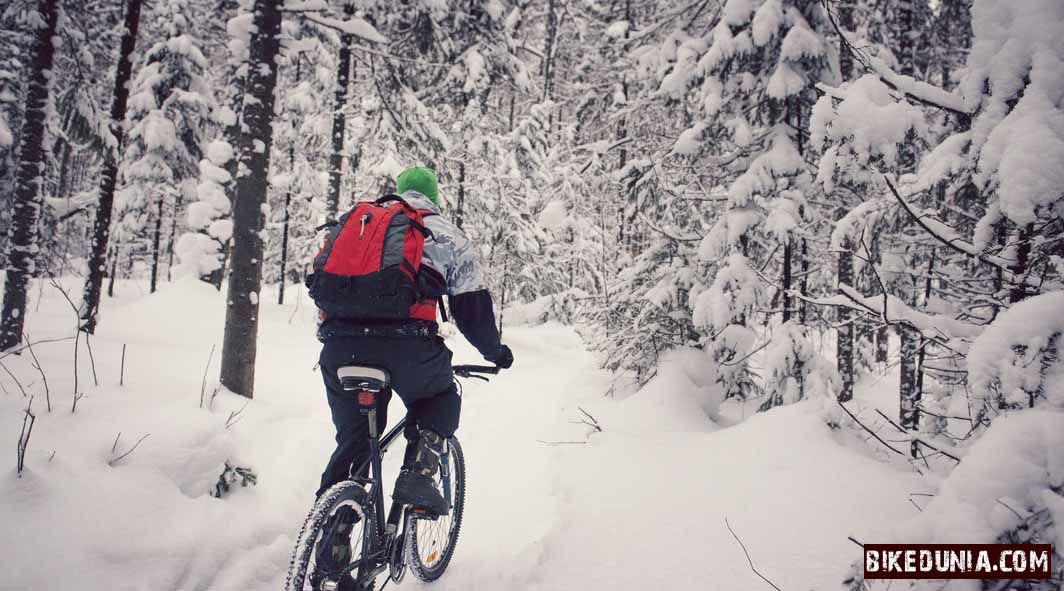 Do Check Out :
A Biker's Weather Woes : Hot days
A Biker's Weather Woes : Rainy Days
A Biker's Weather Woes : Autumn Time
pic courtesy : likeout, thefamilyride, ryanbuildswheels, shockblaze, Torontostar