Weather plays a huge role in the life of a biker. It is recommended to check the weather forecast before starting out on your day if you are riding. This helps in preparing for the day mentally, carrying the right gear depending on the conditions and also to rethink your decision to bike if weather conditions are adverse.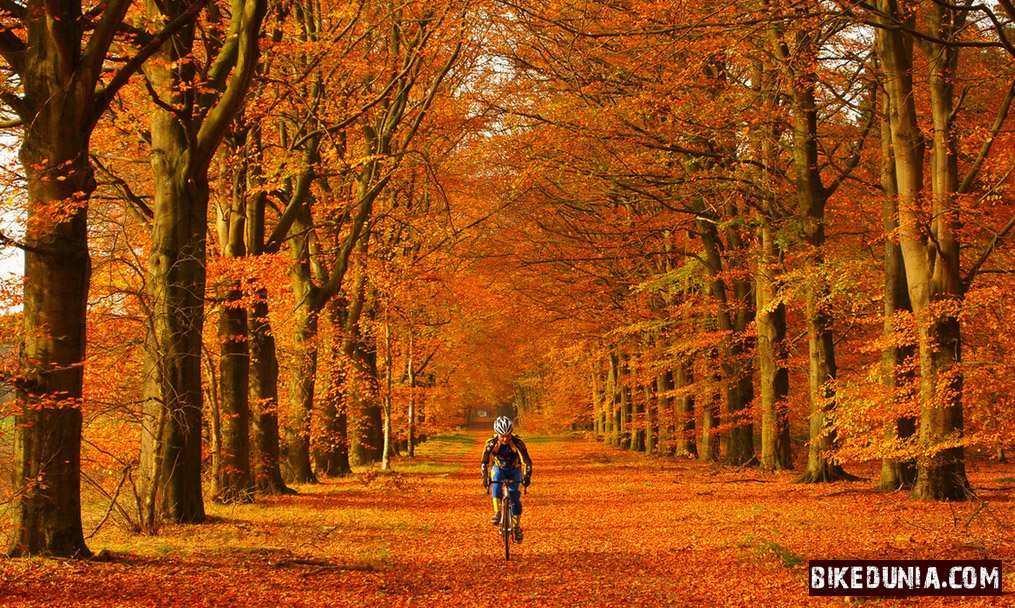 Time for a fall ?
Autumn commonly known as fall time is a great time for being outside while enjoying the mesmerizing beauty of the transition nature is going through. Biking through fall conditions is a great way to discover a town's various enticing spots allowing you to regularly stop, enjoy the view and click pictures with ease.
Autumn brings with it its own set of challenges to a biker though. Autumn being in between summer and winter can have variations and fluctuations towards either making it either warmer or colder than you may have expected. The possibility of rain can also not be discarded depending on where you live. The fallen leaves which in itself is slippery and conceals whatever is beneath is also a tricky situation you could encounter and demands careful riding if you do not plan on falling.
Fall Fashion
Fall time is when the fashion industry picks up internationally due to the wide variety of clothes, layers, and outerwear available. It is also seen on people riding their bikes. It is essential to clothe yourself properly when leaving for a trip during fall even though it may seem to be ideal conditions. It is important to keep yourself warm as the temperature can drop to a much cooler state than normal. There are many options on how to cover yourself properly for warmth while biking in cooler conditions. You could combine functionality with fashion and make a pretty stylish statement while riding depending on your taste, comfort levels and proper selection of clothes and accessories.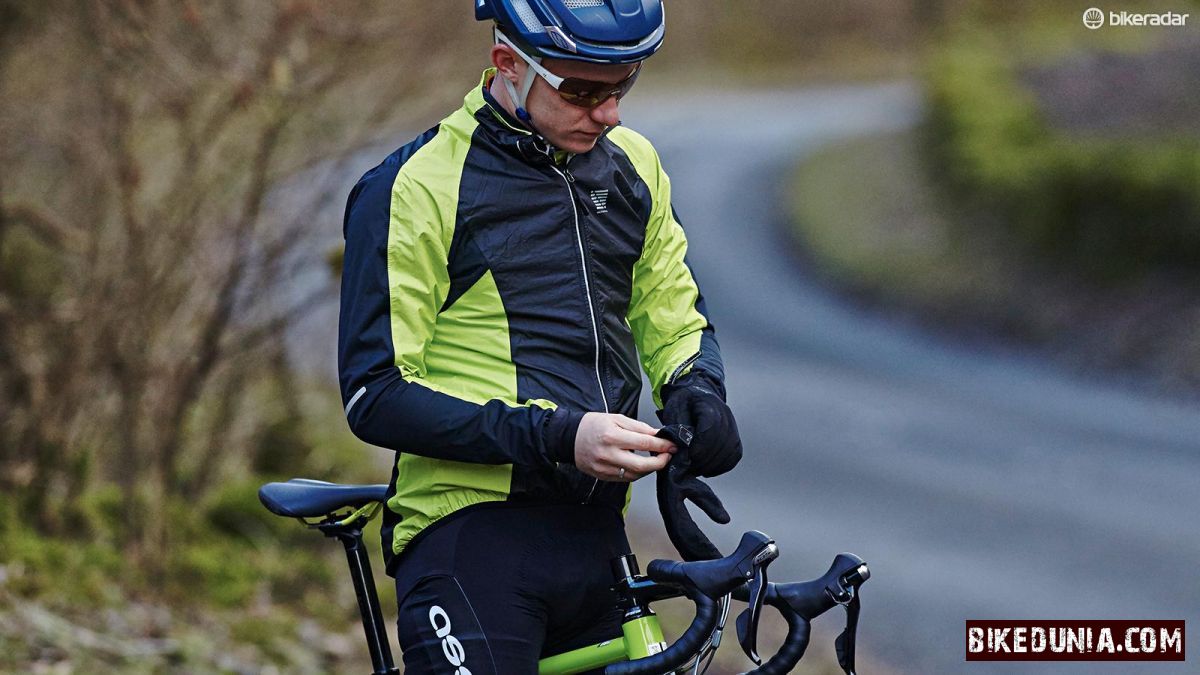 Functional Fall Clothing
Most cyclists know the importance of dressing warm and the advantages of using multiple layers to maintain body heat. Some may think that if you keep riding, your body is working out and it could warm you up, but in cooler climatic conditions, as you may already know the breeze you encounter while riding makes it feel a lot cooler than it actually is. It is called the wind chill. Layering is essential in conditions where the weather could change quickly. Ideally, the internal layer holds your body heat inside keeping you comfortable and the outer layers are more for the purposes like wind protection, rain protection or protection from the cold.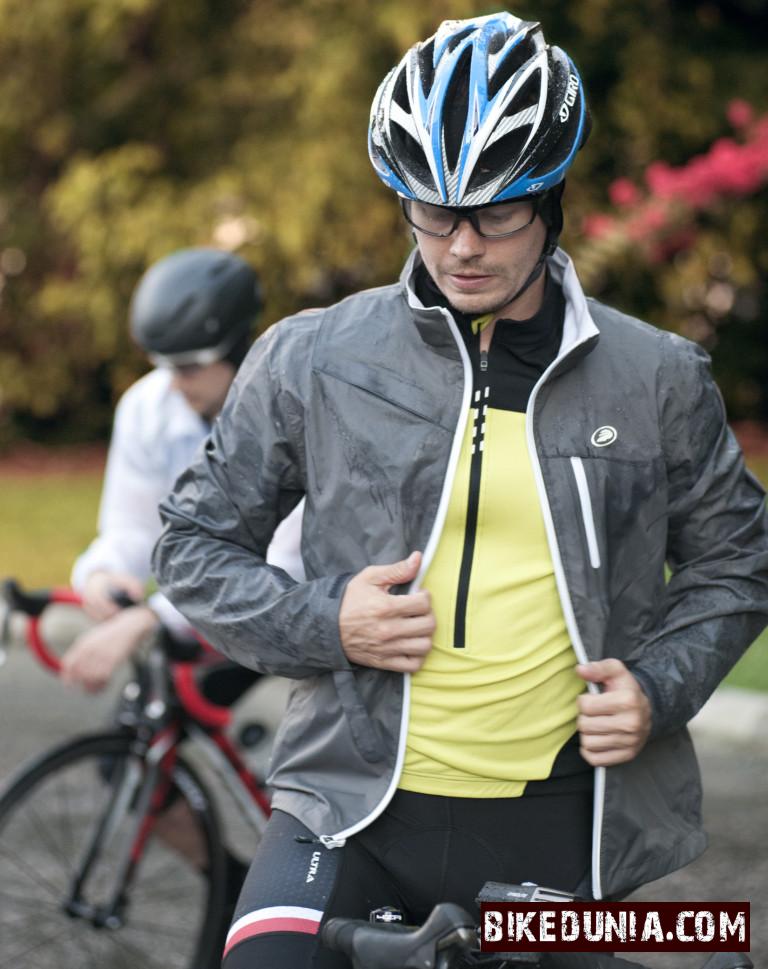 Fall is also a good time when you could check out your old jackets/outerwear which is lying around in the house and make the decision on if it is still worth using or donating. Fall also provides an opportunity of getting comfortable in them by biking a few times in such clothes. This in turn helps to understand if a jacket or a sweater or a combination of such is sufficient in cooler conditions and it could be used accordingly in the winter. Finding the right kind of gloves required which keeps you warm on top of the grip factor is also to be considered early in the fall if you plan on riding throughout fall. Also, pay attention to the kind of socks you wear as you probably would not want one which gets your feet sweaty or cold. Functionality should be given prime importance when selecting fall wear for biking; comfort and fashion coming in later.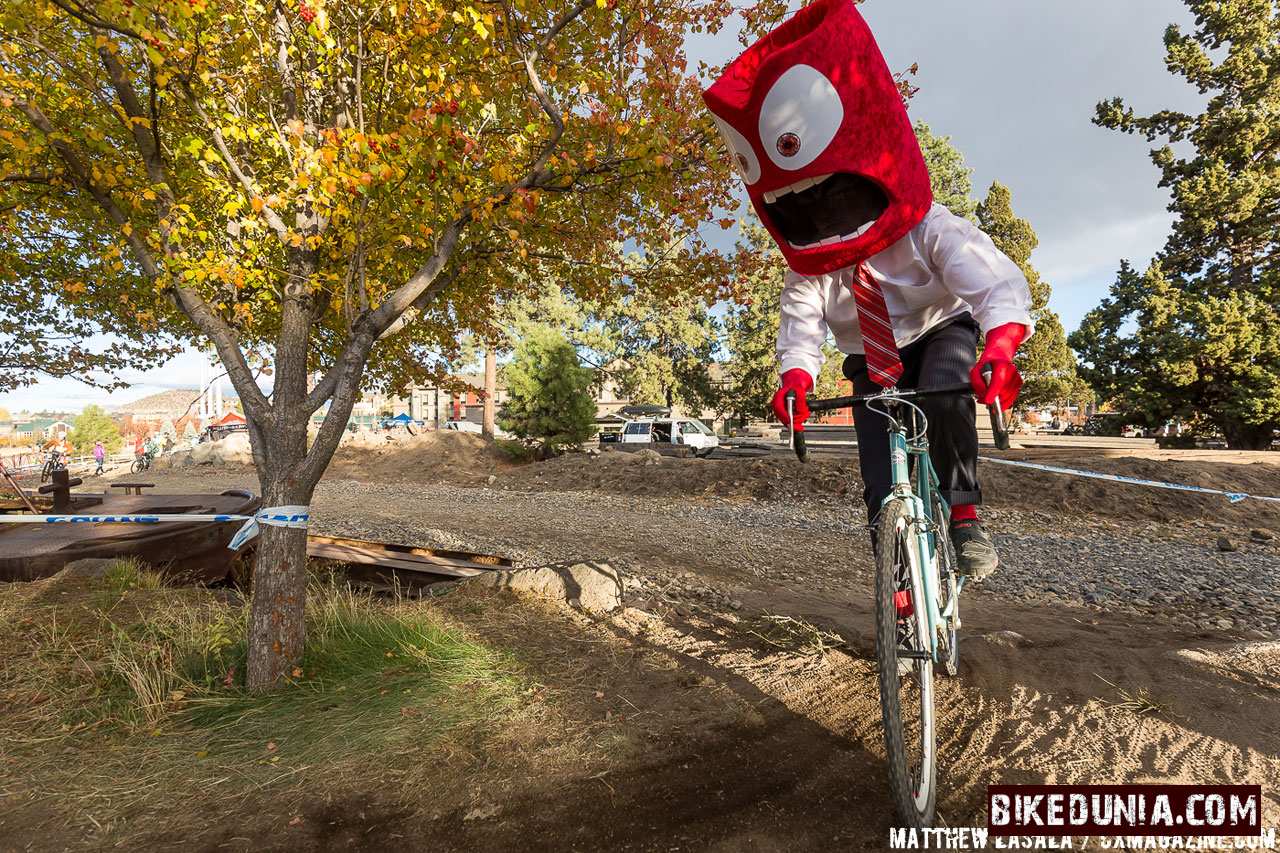 Festive Fall
Fall time is that time of the year when most of the festivals and events happen predominantly all around the world. Harvest time and availability of fruits contribute to this as a major factor. In fairs and festivals, bringing a bike to the festival is generally seen more practical due to the availability of parking space and the rush of vehicles crowding around the parking area. The costumes you wear to special events can get a little over the top during fall and biking in them is also fun and turns heads. It may not be a good idea to regularly wear such costumes while biking though it sounds like fun.
Fabulous nature of nature
It is common for the leaves to change color and finally fall down during fall. You could also see a lot of migratory birds traveling long distances and wild animals crossing through roads and parks. Fall is a great time to catch a glimpse of some rare species which you do not normally encounter. Many are not comfortable riding in colder conditions and have apprehensions regarding the challenges they could face and refrain from biking during fall. Most kids and the youth would be back in school after their summer vacations and few passionate riders would be out there. These factors generally contribute to lesser people being out biking on trails and in parks and you could have a nice day of riding in occasional privacy which lets you connect deeper with nature. You also get the opportunity to click some fabulous pictures during such bike rides where you are sure to encounter many gorgeous natural sites.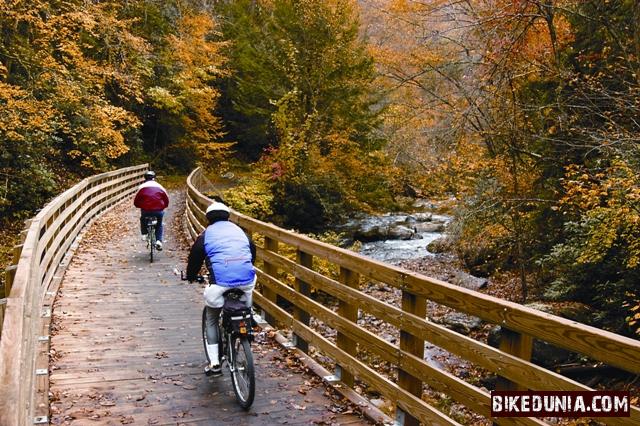 Health Benefits
From summer to winter it is usually seen that the activity levels reduce drastically since people love being outdoors during the warm weather. Keeping up your activity levels during fall by biking also increases your fitness levels and gives you an advantage over others who go into hibernation after summer. You also do not sweat much like the summer unless you are overdressed and allows for a longer riding session normally. It also gives you a higher immunity if you keep riding every day through the fall season from diseases arising from the sudden drop in temperature normally affecting people who tend to spend more time indoors during this transition period. It may seem a little challenging at first but with the right riding gear and a positive frame of mind, riding a bike through trails and other blessed beauty spots of nature during fall would be a rewarding experience.
Do Check Out :
A Biker's Weather Woes : Hot days
A Biker's Weather Woes : Rainy Days
Image courtesy : Performance bicycle blog, activeweekender, cyclocross, cyclesolutions.ca, bikeradar