Weather plays a huge role in the life of a biker. It is recommended to check the weather forecast before starting out on your day if you are riding. This helps in preparing for the day mentally, carrying the right gear depending on the conditions and also to rethink your decision to bike if weather conditions are adverse.
Riding gears and accessories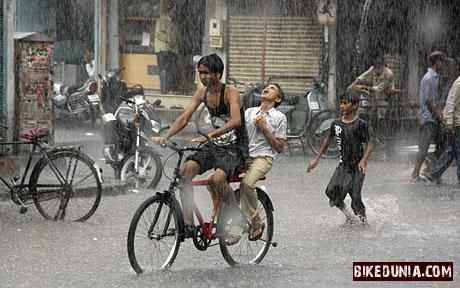 Rainy days would make you drenched if you don't have a proper raincoat. When considering the raincoat, try to pick one which does not fly around too much making you lose your balance. A bright colored or a reflective one would enhance the visibility of other motorists sharing the road and is advisable due to the blurry vision experienced by people driving in the rains. Keeping yourself warm should also be given high priority.
Wear good goggles for disturbance free clear riding. They should also be selected on the comfort factor and should not give you much stress even if you have to ride longer than expected. Try to use good quality goggles which are shatter proof, prevents accumulation of fog and give you protection from ultra violet radiation. Caps under the bike helmet are used by some to cut out excessive water from falling on your goggles.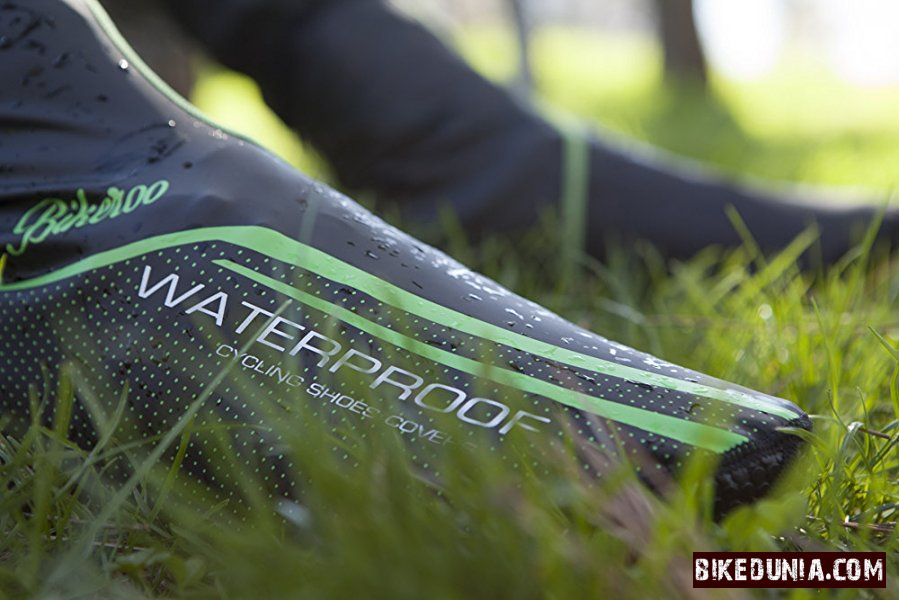 Neoprene boots can be used over your regular boots or you wear just them. Waterproofing sprays are also available if you are riding through a drizzle and don't expect getting soaked. If it is not too cold and you don't mind getting some water in your feet, riding with sandals that provide good grip is also not a bad idea. If it is cold or raining cats and dogs, wear overshoes outside to waterproof and woolen socks inside to keep you warm.
Efficient bike lights preferably led ones are also recommended to enhance your visibility and others to be aware of your presence on the road. Nowadays small intensity flashing red bike clips are also available which can be tied up or locked to your backpack, dress, helmet or the bike itself. These ones are ideal for use at the rear end and again increases your visibility on the road on rainy and windy days.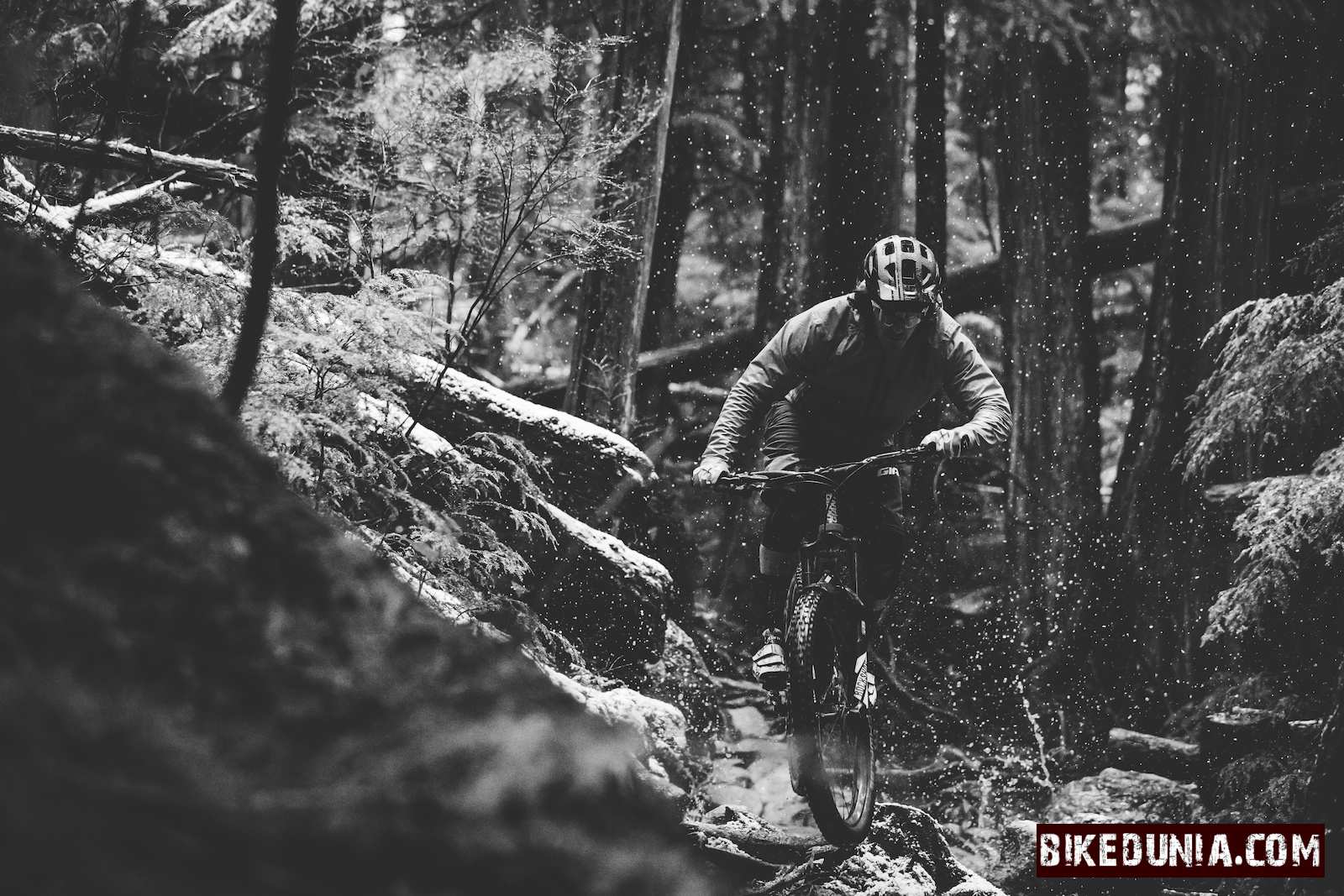 Helmets are an essential accessory you should consider buying if you plan on riding long term. Helmets are strictly enforced to be worn in Australia and New Zealand and some provinces of countries like Canada while others have more relaxed rules on helmets like only kids being asked to wear helmets or not being enforced at all in a lot of countries. Helmets are always recommended to be worn though some complain of helmets giving an uneasy feeling. Well its importance would be understood by those who have faced dangerous situations, which can arise despite riding safe especially in inclement weather. Helmets not only provide you protection in case of accidents, they waterproof your head from rain and avoids you being taken aback by surprise arising from anything dropping on your head directly from above or the sides. They are also a great place to attach your outdoor video camera to and captures all the action from the top most view possible.
Bike Maintenance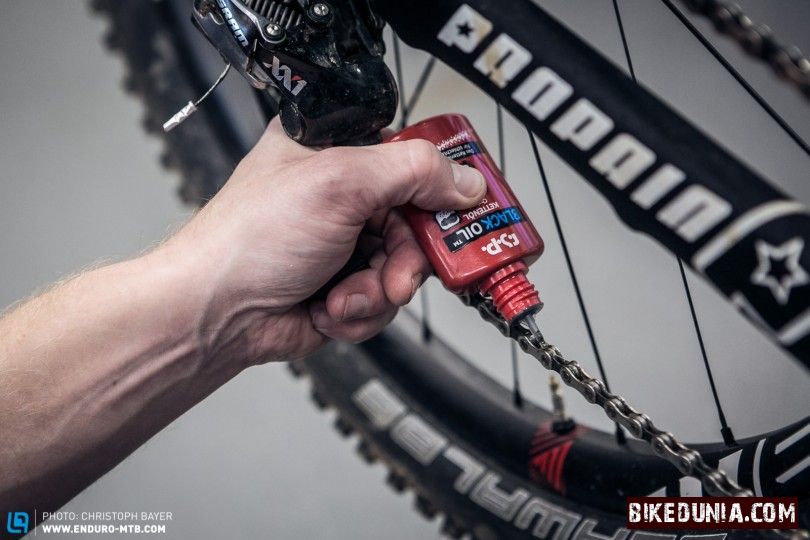 Another precaution you have to take is to use a heavier or stronger chain lube when the chain is dry and before riding on a cold rainy day. Though it might take a little more effort to clean it off later, it will prevent from ice and rust formations and the chain being stiff which could prove dangerous in a long ride on a cold rainy day.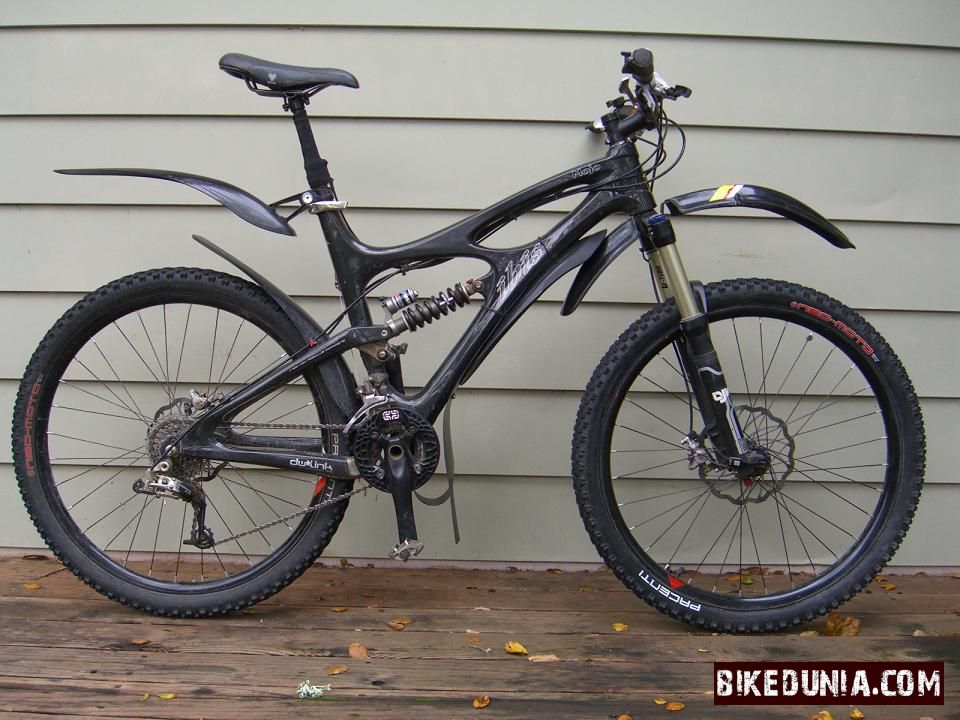 An essential accessory in the past which has been disregarded for its utility in the present are fenders. You could do is install good fenders if you already don't have one. Many people take off fenders and prefer riding without them to give a more light weight and naked feel. This could prove dangerous as the tires can spit water at you, your clothes and cause visibility and concentration lapse issues while riding your bike. So install appropriate fenders and mud flaps if necessary to have a smooth ride on a rainy day.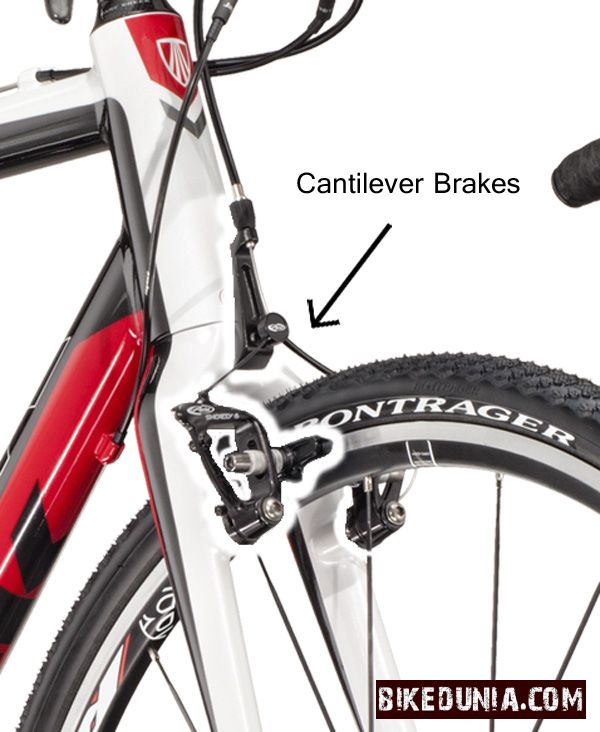 Check your brakes regularly during colder weather and you may have to change them sooner if you ride in the rain frequently. Brakes erode faster if kept in touch with water. Gripping the brakes is also not easy is such conditions. Brake earlier than normal and avoid braking while on oil patches and uneven surfaces.
Hacks
Waterproofing products are provided by many companies nowadays. Waterproofing accessories are available for gloves, socks, helmets, inner wear, goggles and shoes.
Easy waterproofing is done by covering the gear with plastic bags or plastic wraps though it is not recommended to cover your hands or gloves with them as they can be slippery.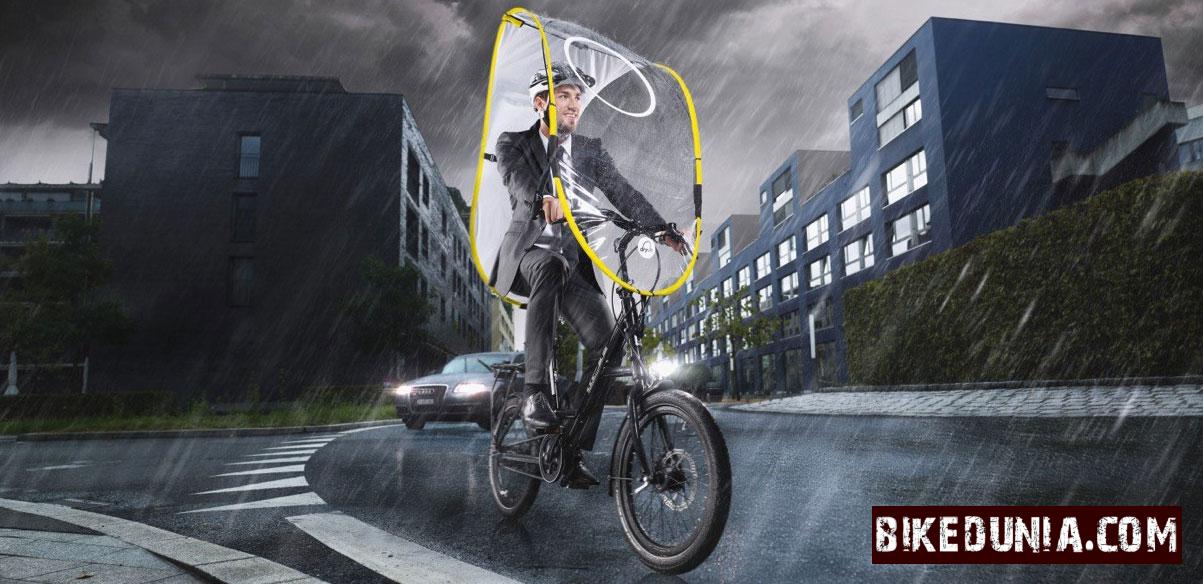 New developments have come along like the use of a tent like structure attachable to the bike which covers your top and allows you to ride with your body majorly unaffected by rain.
Responsible Riding and Road Safety
Make safer riding a priority if you decide on riding in rainy days as many unexpected dangers lurk in the streets which could appear any moment. Watch the road, give clear signals ahead of time and try to travel through familiar streets. Potholes are to be watched and may be deeper and more dangerous than you consider them to be if you like traveling through them and splashing water around. Watch out for rainbow colored spots on the road as these are oil patches which are super slippery and appear with a little rain and takes a lot more of rain to be washed away. Since oil floats on top of the water, avoid these slick patches for a safe riding. Also watch out for sharp turns and go slower than normal. Cornering should be done carefully and outer pedal should be given more weight to stay planted and to have a balanced weight on the bike. Be careful while riding on painted stripes, fallen leaves and over metal objects like manhole covers.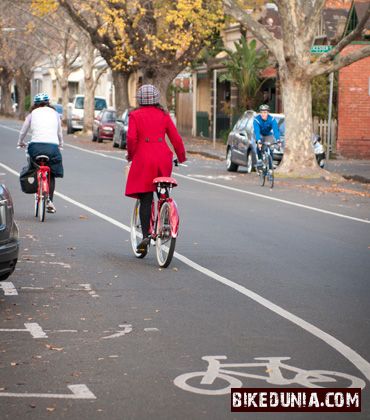 Refrain from participating in road rage even if people try to engage you by their actions or honking. Stop and take pictures of number plates if you notice people driving dangerously. A bike rider can have a good view and larger peripheral vision normally due to the openness of riding a bike and not being enclosed, so you can spot abnormal behavior and act promptly in case of an emergency situation developing around you. Lives are precious to every individual and the people who care about them, with any time lost saving a life to be considered as the best way time could be spent. Ride peacefully being a responsible citizen and you can lead an active, healthy and rewarding life.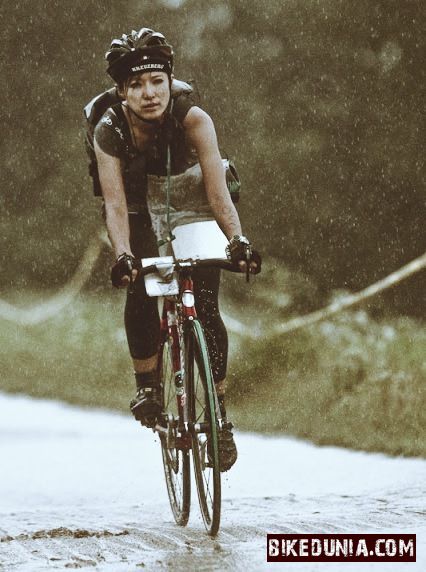 Ride carefully with the appropriate gear at a safe speed and you will probably enjoy the experience of riding in the rain.
Also Read:
A Biker's Weather Woes : Hot days
A Biker's Weather Woes : Autumn Time
Pic courtesy : vicroads, trekbikes, enduromagazine, dryve, bicyclestackexchange, srammedia, creative consulting & developmental works, bikeroo