The future world will be fully loaded with electric machines. Some significances are already being mounted up these days. Many are working and developing innovative environmental friendly machines. Many have already come up with them. Zero Motorcyles is one of them which have been successfully developing electric motorcycles throughout years. And Zero S Streetfighter is one the latest motors of Zero to hit road.
The company says that if you are looking for an electric motorcycle featured with instant torque and power from a standstill, a motor that can provide you smooth acceleration as you throttle out in turns, an electric machine that is not all needed to stop at a gas station at regular intervals of time; then this is your motor-machine, the Zero S Streetfighter.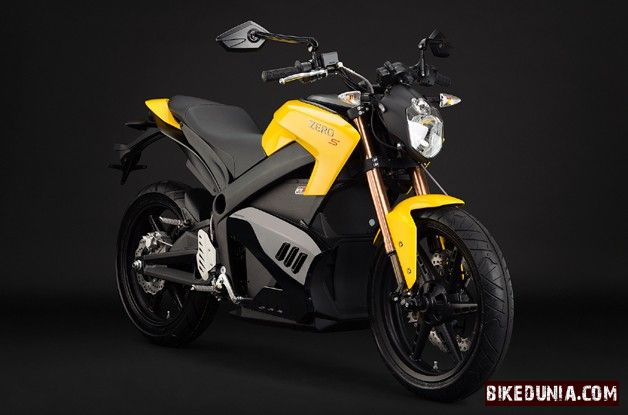 The all new 2013 Zero S is 93% more powerful, produces 62% more torque and ensures 20% greater city range. Now the motorcycle can be charged up to 95% at CHAdeMO charging stations in an hour or less, which is incredible as far as an electric machine is concerned.
The Zero S looks extremely dashing. Having coupled with a sleek look, the bike brings us to some sporty feel that is owned only by superbikes. Now you can sync you smartphones with the Zero S by downloading its iPhone or Android or Windows App. By syncing via Bluetooth, the rider can customize the dashboard according to the necessities.
The Zero S comes with a Z-Force 75-7 passively air-cooled, high efficiency, radial flux permanent magnet, brushless motor. The bike generates maximum power of 54 hp @ 4,300 RPM and maximum torque of 92 Nm. It is mated with a Clutchless direct drive transmission. The top speed of the machine is 153 kmph. Though the motorcycles can be fully charged within 1.5 hours via CHAdeMO, the standard charging time to get charged 100% is 6 hours. Within a single charge the rider can go up to 166 km and 103 km in city and in highway respectively.
Zero has also taken care of the quality of its comfort. The bike is equipped with a 38mm inverted, aluminum slider forks with adjustable compression and rebound damping front suspension and a Piggy-back reservoir shock with adjustable spring preload, compression and rebound damping. To ensure safety at high speeds, a Nissin 2 piston hydraulic, 313x4 mm floating disc brake at front and a Nissin 1 piston hydraulic, 221x4.5 mm disc brake at rear have been wedded.
The Zero S comes in two versions- the ZERO S ZF8.5 and the ZERO S ZF11.4, and are priced $13,995 and $15,995 respectively in the US market.