Parking spots are one of the most fought over commodity in urban areas. It is a privilege to have a parking spot close to where you have to go.
Since parking spots are managed by the property owners, they try to reserve it for cars primarily, then motorcycles have next priority and most do not care and encourage people parking their cycles and frown pretending like it is going to take up all of their space. What such companies do not try to understand is the fact that if you discourage cycling these people would come in a bigger vehicle taking up more space in the parking lot.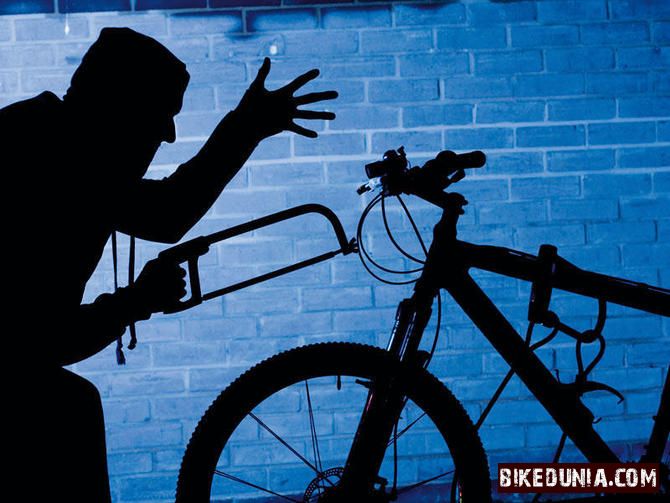 There is a possibility of a good bike to be stolen in spite of it being locked since it is lightweight and the locks can be broken using modern tools if the bike is parked in an unsecured locality or location. Cycles may be constantly moved by the staff or others leading to scratches developing and hits to sensitive parts causing damage to the bike.
But the relieving fact is you could find ways to park your bicycle easily if you keenly look around. You could probably find a place near the entrance even if one is not explicitly provided. You only have to look for a place to tie up the bike. Try to leave it in a visible spot though, which could be seen from most sides from a distance, this discourages prospective bike thieves to an extent.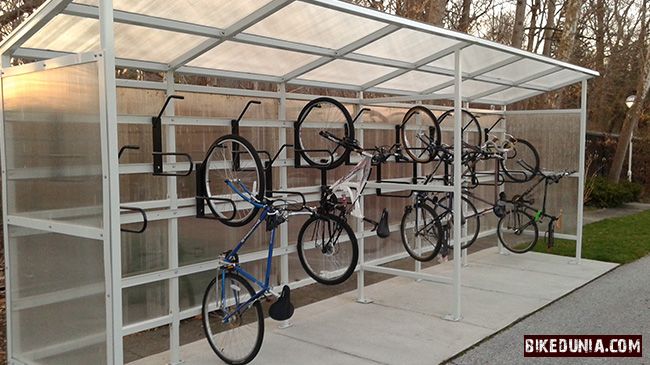 Some places have begun the initiatives of providing bicycle racks near the entrance of the building. This encourages cyclists to park only there or around that area if all racks are full and leads to an organized coexistence.
Squeeze n Juice
Traffic or predominantly cars have a tendency to take up a lot of space in the streets and neglecting the space required by a bicycle to overtake or cross them. Some are not well informed about the space to be given to a cyclist and do so unintentionally. Some purposefully do so since they are jealous of the fact that in spite of burning petrol at a high rate in modern day city traffic, they are not able to get far, yet they see these bikes squeeze through and whizz past them in busy traffic conditions. It is definitely a disturbing yet enviable sight for those stuck in traffic to see bikes which squeeze ahead through the traffic. The trucks and buses seem to give space and respect the presence of cycles on the road generally, maybe it is because they drive around a lot and can see the action of the riders from the top. But it is menacing enough for a huge vehicle to pass by pretty close and would cause many bicycle riders to hold on to their handlebars like their dear life is at stake.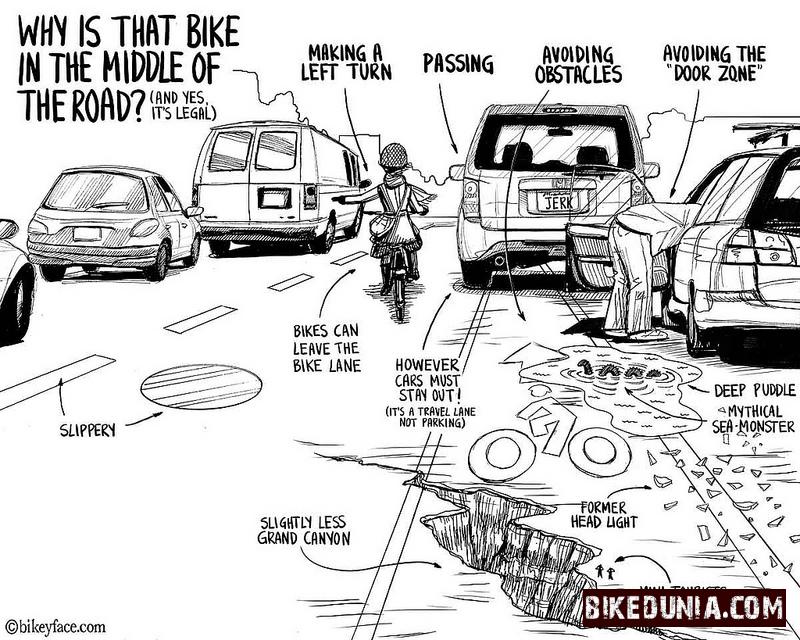 Some drivers see the cyclists but consider to allow a very marginal space for the cyclist to move and literally squeeze them and drive ahead confidently with a speed which could juice the cyclist. What they don't try to understand though is that the energy spent by a cyclist to ride forward is at least as important as the fossil fuel which they burn. Unlike sitting in a caged box like a car or a truck, a cyclist feels raw when traffic passes close by and could cause shaking of handlebar from being tensed and applying too much stress or even the wind disturbance causing it. Another aspect is the dust accumulated on their dress, accessories and on their bodies if they are not properly covered. Same with rain and bird droppings which have the possibility of getting to you.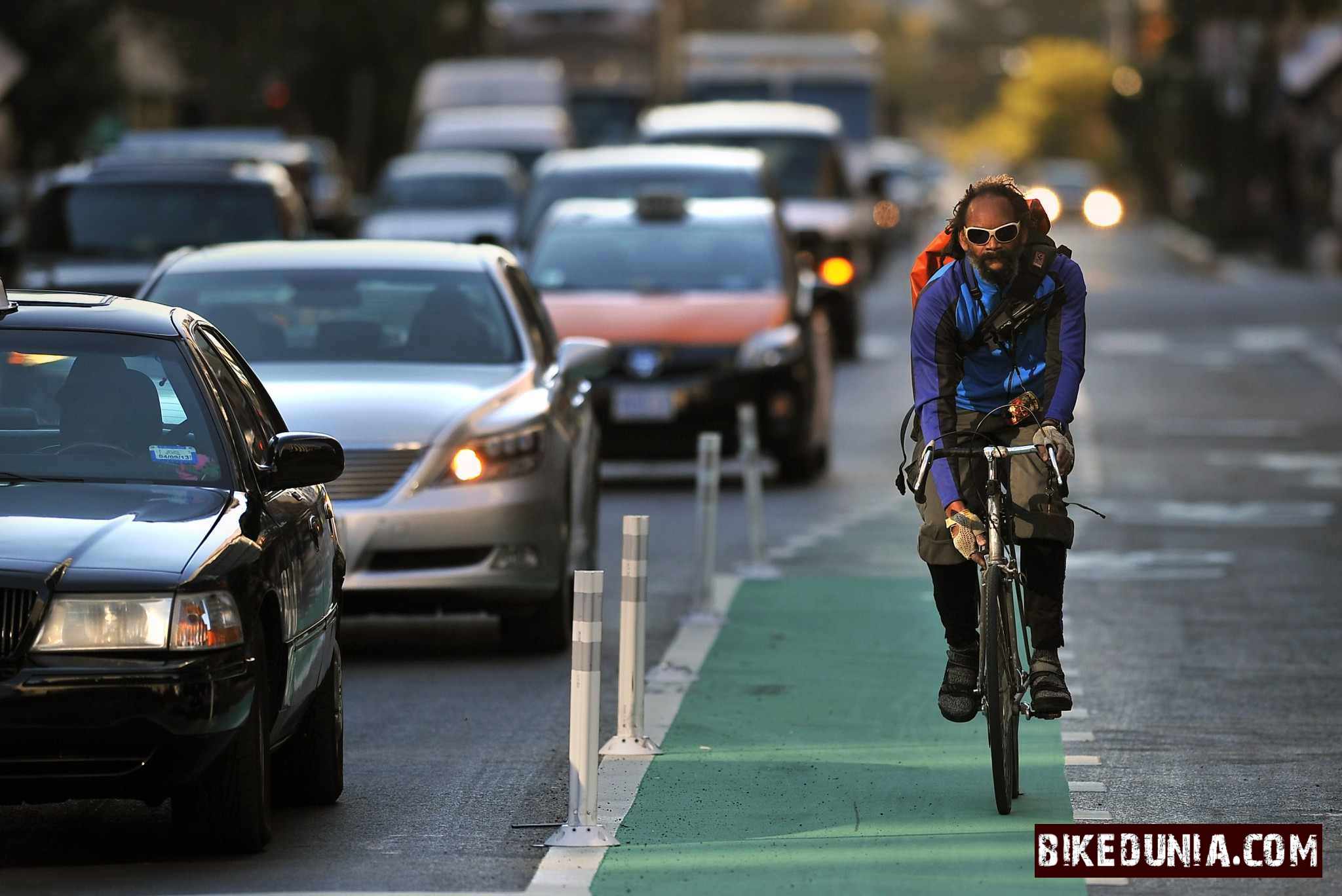 The positives of using a bike in cities are also pretty prominent with the main advantage being able to squeeze through and get ahead in high traffic situations. You can also see ahead and get a glimpse of the upcoming traffic from a view which is normally higher than one from a normal SUV. Another easy thing for a cyclist to do is to decide on an alternative route on the go, make quick turns due to the wider visibility of the side streets and nimble nature of the bike. It is also easy for a cyclist to stop abruptly to catch a break and visit a store or restaurant without giving much thought about parking spots or change to drop in the parking meter.
In the USA, Canada and some European Union countries, bike racks are provided on public transport buses. This portrays an acceptability of bikes and displays the government's intention to promote cycling. It comes as a great help to those travelling a lot by their bikes.
Road conditions
The road conditions play a big part in the community's willingness to bike. This is probably why we see a high level of enthusiasm among riders in developed countries with good conditions of the roads. In developing countries with comparatively poorer infrastructure, the poor road conditions make it all the more hard and give direct vibrations to the cycle when riding through them. The highways are usually well maintained but the city roads seem to develop potholes pretty fast comparatively. It is also not readily repaired due to the high volume of traffic through the cities. When the traffic is high and the cyclists moving through the road and sometimes are forced to go through the potholes and unless you have a good mountain bike with decent shocks you would be experiencing a turbulent ride.
Bike tracks are provided in some countries which are meant to be used only by bikes. Yet the bikes are not only restricted to using them, but they also have the option to use other parts of the road as well. This helps the bikes and other vehicles sharing the road to a great extent. Bike riders feel comfortable riding on them and is a safe and convenient method which more cities could implement.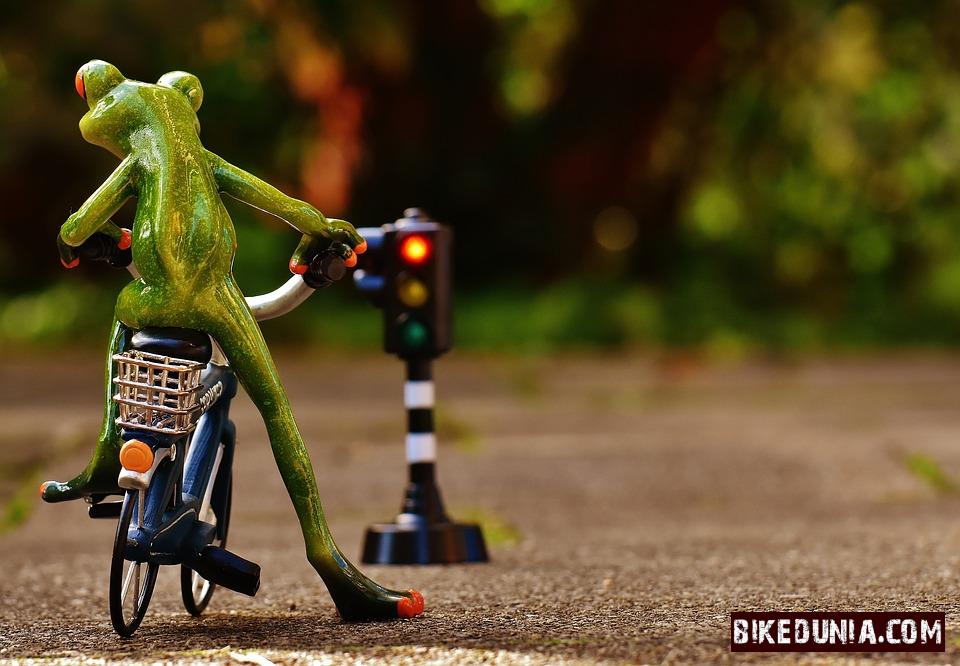 Though you may not see many obeying traffic rules around you, you could set an example and make people think twice by properly following the rules. It is definitely gonna be a bold step in the improvement of the society, your kith & kin and ultimately you as well. Happy riding.
Pic Courtesy : pixabay, DCnightlife, cycletoscana, velodomeshelters, ebikeschool