The first event of its kind in the North American market, the American International Motorcycle Expo (AIMExpo) is scheduled to be held, at Orlando, Florida, on October 18, 19, and 20 of 2013. As it is the inaugural event, the expectations of motorcycle enthusiasts across the US market are highly mounted. The Expo will bring together consumers, trade and media in a celebration of motorcycling, the motorcycling lifestyle and the business of motorcycling in a way never before seen in the United States under one roof. The event will feature bi-wheeling products such as motorcycles, bikes, scooters, ATVs, and Side-by-Sides.
Unlike any existing show in the United States, AIMExpo will bring out the entire industry by motorcyclists for motorcyclists since it is included of OEMs, distributors, parts & accessories manufacturers, dealers, consumers and the media. Meanwhile, its officials launched the official website of the AIMExpo with a newly designed stunning logo. The website will help all the industry constituents to know more about the event.

"AIMExpo is about energizing the powersports marketplace, and the new website will be the primary source of news, information, and connectivity for the world of motorcycling as all corners of the market make plans to attend the inaugural event. The site offers a wealth of information and details, and will be continually refreshed as the event approaches," said Mr. Larry Little, Vice President and General Manager of the Motorcycle Group.
"We announced AIMExpo with an interim site that allowed us to get the word out quickly, and the initial site served us well as a launch vehicle. The overarching plan was to develop an extensive, fully integrated site that would deliver important show information and allow us to interact with the industry and consumers. With the event almost exactly one year out, the timing is right to move to the new platform while visually tying everything together with the new logo," Mr. Little added.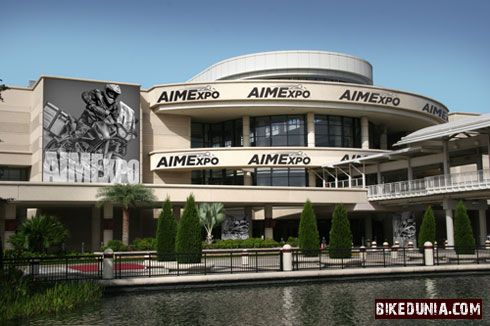 Motor-maniacs can their tickets from the Orange County Convention Center during the event. The online ticket reservation will start only on April 1, 2013. The ticket charges $15 for a one day general admission and $25 for 3-day pass. Meanwhile, children under 12 can enter freely with their parents.
The Expo will be hosted by big brands in this industry such as Motorcycle Safety Foundation (MSF), Marketplace Events (MPE), Italian Trade Commission (ITC)and Erik Buell Racing etc. Concurrently, Yamaha plans to unveil its 2014 line-up at the AIMExpo.