It is indeed an awful moment when one witnesses a an accident or even hears about one. It gets worse when gearheads like us gets to know of a crash that might have involved our favorite vehicle. Recent reports have emerged of two separate crashes that involved the new hyperbike from Kawasaki, the Ninja H2.
The crash in South Africa was reported only a few days ago by various media sources and initial reports pointed out that the rider lost control after slamming against a hard barrier of some sort. Unfortunately, the damages caused to the precious bike is well beyond repair and might be destined for the junk yard. The rider however, has escaped with injuries and is undergoing treatment at a local hospital.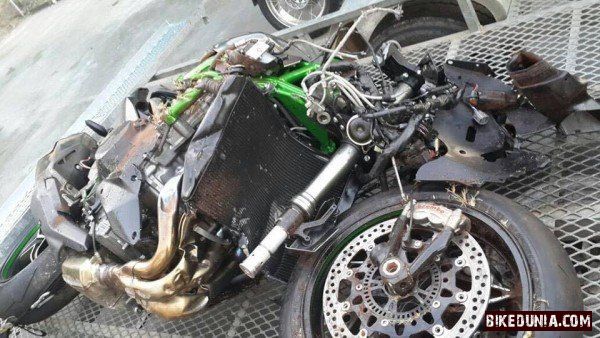 The Ninja H2 is a high-performance bike that comes with a supercharged engine and the power delivery is way beyond 200 bhp. Kawasaki designed this bike with extreme precision and engineering and have added sophisticated technology and hardware to make this one-of-a-kind bike.
Another exciting feature of the H2 is its paint. A silver or mirror-finish coating has been applied to the bike that gives it an adaptive color tone. Adaptive in the sense that it looks incredibly dark/black at night or in the absence of light and extremely reflective in the presence of light. A minor scratch or finger print would become visible and would be a difficult job to get them off.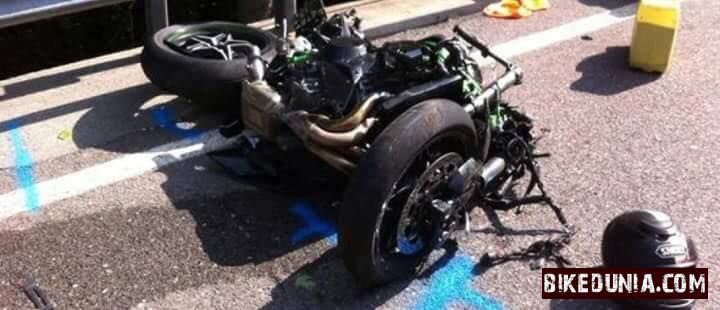 Another crash that was reported involving the H2 came in from Croatia when the rider lost control of the bike and hit two other bicyclists that were on a mountain road. However, as fate would have it, the rider of the bike wasn't able to make it out alive. Further details are yet to be known but the risk of losing lives and also the amount of responsibility that comes with owning these expensive monsters are issues that crop up with time and one to be debated. Power is certainly good under control and equally dangerous when its not under control. The Ninja H2's supercharger kicks in after 4000 RPM, 4000 is way too fast for anyone to handle that sort of power and it gets even worse when the rider has little or no previous experience of controlling litre-class bikes. Ultimately, the owner of the bike is responsible for the consequences post buying a hyper-machine. Things can go wrong just like the crashes mentioned if proper care and more importantly, proper experience are learned from riding one.
Courtesy: Motoroids