When car manufacturers are on the loose to mint more money for the business, Ford Motor Company has decided to take a different stride this time. And now, the experiment is on e-bikes.
Ford had been working on improving its Smart Mobility plan and off-late, the company had become obsessed with the idea of experimenting on the bicycle sector by mating it to seamless technology. This is mainly to make it easier to swerve through traffic blocks and help organizations working in urban focuses make faster deliveries.
"There are so many ways to get around a city, but what is really needed is a way to connect all of these transport options together. Being able to seamlessly move between cars, buses, trains and e-bikes and react to changing traffic situations can make a big difference both for commuters and for those delivering goods, services and healthcare", remarked the vice president of Ford Research and Advanced Engineering, Ken Washington.
The new e-bike amplifies the scope of transport answers for an associated excursion that is productive, as well as protected. It began with the organization testing its representatives over the globe to submit outlines for e-bicycles. Out of the 100+ entries, two e-bicycles, i.e. MoDe:Me and MoDe:Pro made it to the Mobile World Congress.
The e-bikes, which can be kept in the back storage of Ford vehicles, get a 200-watt engine with 9-amp-hour battery that gives electric pedal help to speeds of up to 25 kmph, furthermore offering innovations like a back-confronting ultrasonic sensor. This sensor empowers a rider-alert framework that both alerts the cyclist when a vehicle is overtaking, by vibrating both handlebars, and lights up the handlebar lights to alert the other drivers of the e-bike on the road.
The e-bikes from Ford fall under two categories- one for daily commutation, and the other for courier services, and these bikes are managed by a smartphone prototype app known as the MoDe:Link which helps in directing the bike. This application, however works in agreement only with the Apple iPhone6, and offers the following facilities:
Navigation: Handle-bar grasp vibrations alerts the rider at the turning points. Turn signs are activated by default for safety purposes. The application can recognize dangers and alarms, and will have the capacity to sense, and correspond with different vehicles.
Multimodal route and shrewd routing: Integrates trip arrangement plans with individual bikes and open transportation systems, which can be separated by expense, time, and range of biking. The guide incorporates climate, stopping expenses, and charging stations.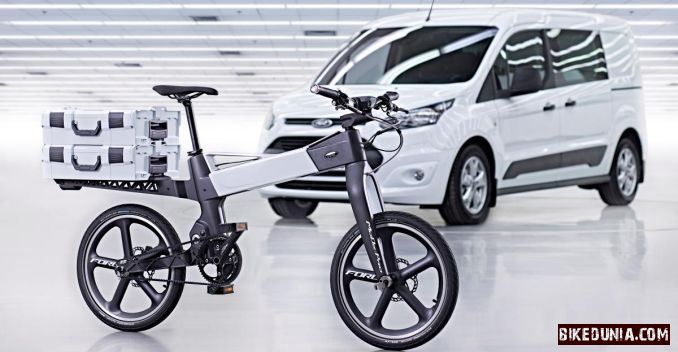 Speed and comfort: Electric pedal aid rate can be balanced in the view of heart rate, "No Sweat" mode lessens the prerequisite to pedal, permitting riders to arrive crisp at their destination.
SYNC similarity: While the bike is kept for charging inside the vehicle, Ford's SYNC voice-actuated integration framework demonstrates the application on the vehicle's console.