A new brand from the home of Honda, the CTX. The term CTX stands for Comfort Technology eXperience. Introducing the new machines Honda calls the new two wheeler brand as the new vision of motorcycling. With the new bikes Honda tries to mingle both cruising and sport-riding under one umbrella.
Looks
Though the appearance of the all new CTX700 is not that sporty, Honda has done a very good job with it. From the outlook of the bike itself, a rider can realize that the bike is meant to be both cruising and racing. Its curved seating position, normal exhaust and a modest rear design exclusively reminds us a cruiser bi-wheeler. However, as far as the body kits, black painted engine surroundings, handlebar and 5-spoke alloy wheels are concerned; the bike seems to be a real monster for hunt. Hence, it's definitely a crossover of a sportbike and a cruiser by design.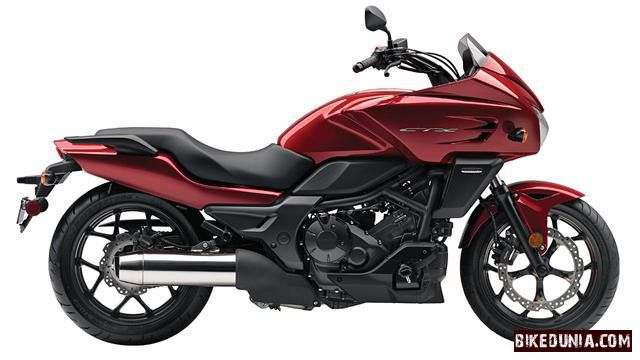 Engine and Performance
It is performed by a 670 cc, Liquid-cooled parallel-twin SOHC; four valves per cylinder engine, which is wedded to a six speed gear transmission. The machine is capable to produce only a maximum power of 48 hp @ 6100 rpm, which makes the two-wheeler slightly underpowered. It takes 4680 rpm to reach at the maximum torque of the bike. While the other motorcycles in its class take only below 4 seconds for their 0-60 time, the CTX700 needs 5.4 seconds to reach 60 from 0. So considering power and performance, this bike lacks a lot to be true wanderer.
Handling and Riding
New comers or experienced hands or superbike racers or whoever may be, this is designed to be driven smoothly. This bike enriches a great experience to anyone who rides it. Since the seat is designed to be a cruiser, long drives are never harder on the CTX700. Its set height measured just 28.3 inches allows even the shortest guy to make a scramble with it.
Features
Above all, it is wedded with a special technology called Dual Clutch Transmission (DCT). It is a revolutionary and a unique automatic transmission by Honda, so that gear can be automatically shifted once the engine is switched on to the DCT model. It also comes in ABS. Both features are available only in the high end variant.
Verdict
If you're considering a cruiser cum sportbike, the CTX700 may suit your necessaries. But if you consider power this not the one you're looking for. Remember, it gives a mileage of 26 kmpl and is priced very well. It starts at $7,799.