Chill up guys. We have a great story for you. It's all about the much awaited
Yamaha YZF R25
. Yep! Another machine to the YZF line-up. The R25 concept was debuted at the 43rd Tokyo Motor Show. Of course, the bike's concept had a warm welcome by Yamaha enthusiasts attended the event. Though, it's just a concept, the production machine is expected to hit tracks in the year 2014 itself.
The bike has already grabbed good words from world class MotoGP racer, Valentino Rossi. "It's an all new street motorcycle injected with Yamaha Motor Racing's pedigree. This bike really packs a punch," said Rossi.
The R25 will be treated as an entry-level sport bike in the US, Europe and Japan, and will be a performing motorcycle in the Asian market.
The R25 certainly carries cues from the R1 and its younger brothers. At first sight itself, your brain will recognize that it's a YZF family machine. It absolutely looks dashing. Of course, none needs any explanation. You all know how a YZF model looks like. A true beast in a little form. That's the R25. As the concept is only out, we haven't had any picture of its headlight and tail lamp. It is likely to come out with a dual projector stuff at front and an LED at the tail.
The side panels are sporty as its siblings. The split seat is simply awesome, which makes you feel like a real super sport before your eyes. The "V' shaped blacked 5-spoke alloy wheels, chrome finished typical racing exhaust, and optional rear mudguard definitely tempt all sport bike fanatics.
The R25 is powered by a 249cc, parallel twin powerhouse. The engine is expected to burn out a peak power around 25-30 hp and a peak torque around 25 Nm. It will have 6 speed gear transmission as well. Unfortunately, technical specifications aren't out now. It will be officially revealed only once the production model is ready to take the road.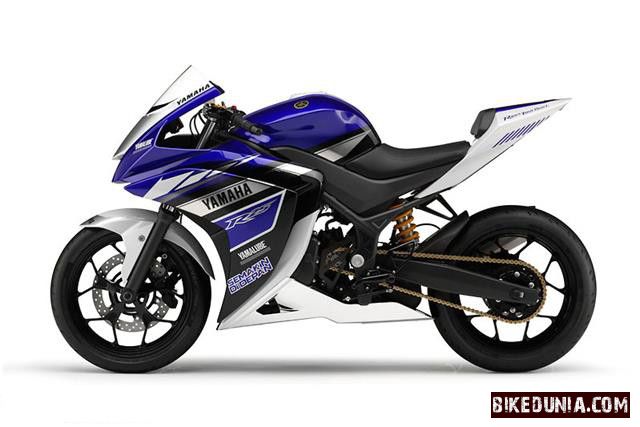 The bike will be powered by a lot of features which must be seen in an entry-level sport bike. A fully featured digital instrument, that is comprised of speedometer, tachometer, odometer, trip meter, fuel gauge, and time, ensures the basic dynamics of a sport bi-wheeler.
To stop the motorcycle we have disc brakes on both wheels. It's uncertain whether the R25 will have ABS or not. Still, it's likely to come up with ABS at least as optional since the rivals CBR 250R, Ninja 300, and Duke 390 offer the same feature. Then it would bring a tighter competition in the market, which will simultaneously confuse and offer more option to the customers.
The bike is likely to feature a conventional fork and a rear mono-shock. It seems like so from the picture. It has wider and bigger tyres. This will definitely increase the confidence of the rider in turns, gutters, and high speeds.
The R25 will be a nightmare for many makers. It is for sure that Yamaha will be pricing the R25 very cleverly and competitively in order to challenge the sales of both CBR 250R and Ninja 300, which start at $4199 and $4799 respectively. So can expect a price tag around $4000 for the YZF R25 Standard variant in the USA market. Then that will take all the links to Yamaha outlets.