Blowing away the predictions and calculations, a 20-year-old young man from Spain, Marc Marquez bagged his debut MotoGP round at the new Circuit of the Americas, in Austin, Texas. Marquesz finished the race in a time period of 43'42.123. He is only a Repsol Honda Team Rider. While the second place was snapped away by his teammate, Dani Pedrosa, who finished just 1.534 seconds behind Marquez. Meanwhile, the current world MotoGP champion, Lorenzo was pushed back to third spot as he could finish only 3.381 seconds behind the winner.
"If I'm honest…no. To be third in my first race in Qatar was a dream and now, to take the victory in the second race…that's even better! The race was quite hard, especially in terms of physical condition towards the end – with corners like Turn 1. I had some problems with the front that I hadn't had in practice, but even with that I was able to push and keep up a constant rhythm – not so fast, but enough. So I'm very happy with that and I want to say thanks to all of my team. Without them this would not have been possible," commented Marquez to media after achieving a dream come true moment in his life.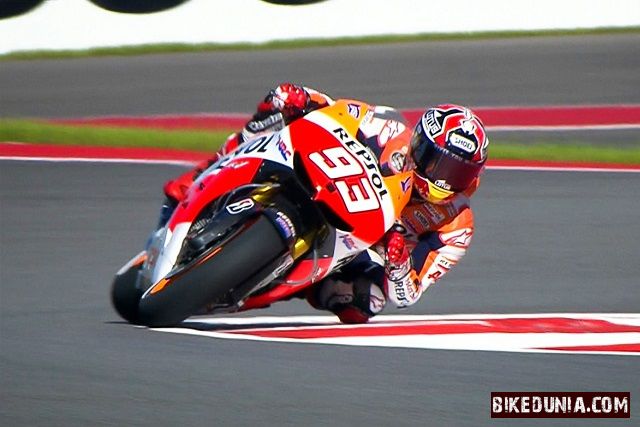 "No tactics, really: just to go out there and do the fastest possible laps all the time! I know I wasn't going super quick in the first section, so towards the end I was struggling there with some pain in my (left) arm; I couldn't really flick the bike in the way I had been. I lost some ground there, but was making up in the second part of the track. Then I made a mistake and lost one and a half seconds, so that was it, but I'm really happy with the bike this time and I'm glad for the team. Congratulations to Marc – it's just a super start to the season – but I'm really happy with my second place and now I'm just trying to get better and better for the next round," said Pedrosa after the race.

"Winning is winning and third position is third position. This track is probably the worst for us, so finishing third and being so close to the winner is something we didn't expect yesterday. In the Warm-Up we found something, changing to second gear for the hairpins and slow corners. That made it much better but unfortunately we didn't set up the best gear ratios for the best acceleration, so we just needed two tenths that we didn't have. I want to congratulate Cal Crutchlow because he just didn't give up until the very end, but mainly Marc because of his record and the fact that he was the best today," said Lorenzo.