Piaggio USA finds no better way to bring in more customers to its dealerships. Now the company offers an Annual Percentage Rate of 1.99% for all Piaggio scooters and all 50cc Vespa Scooters. The time period of loan is 24 months. Moreover, the firm also provides $0 down payment facility to selected customers.
The offer is applicable to new untitled 2013 and prior Piaggio or Vespa 50cc scooter models. Finance is taken care by FreedomRoad Financial (FRF). It is a loan production center of Evergreen Bank Group. However, zero down payment and 1.99% APR is applicable only to the slected customers. Applicants are qualified based on their approved credits. That means, customers should have high credit scores. Even if the applicant is selected he might have to pay down payment to get sanctioned the lend. Meanwhile, the other applicants might need to pay more APR. Because, it all depends upon everyone's credit card score.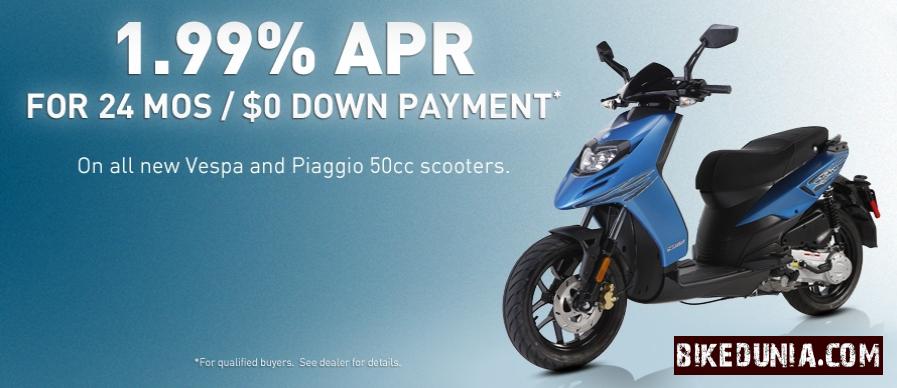 The finance offer is valid only through U.S. Vespa or Piaggio dealers. The offer gets closed on April 30, 2013.
It is a great chance to both the US customers and the company. The crisis that shook Piaggio had certainly put it in trouble. So the officials had no better option to bring back the golden times of Piaggio in the United States of America.
Piaggio USA has presently eight Piaggio scooters and three 50cc scooters in its ramp. The Fly 50 4V, Fly 150, Typhoon 50, Typhoon 125, BV 350, MP3 250, MP3 400, and MP3 500 are the all eight models under Piaggio brand. Meanwhile, the rest three 50cc scooters are the LX 50 4V, S 50 4V, and the S 50 Sport SE.
The MP3 500 is the flagship scooter of Piaggio. The scooter costs $8899 in the US market. It comes with a 429.7cc Single-cylinder, MASTER, 4-stroke, 4-valve engine. It produces maximum power of 40 hp and maximum torque of 42.23 Nm at 5,550 rpm. The scooter can turn up to top speed of 89 mph. The machine ensures a mileage of 24 kmpl.
Meantime, the Typhoon 50 is the cheapest scooter in the list. Mated with a 49cc, 4-stroke 4-valve engine, the scooter generates peak power of 3.4 kW at 9,500 rpm and peak torque of 3.8 Nm at 8,000 rpm. The top speed of the Typhoon 50 is 40 mph.