4th April, 2013 was a fabulous day for all Yamaha fans across the world as the Yamaha machines bagged all three top spots at the opening practice race for the Commercial Bank Grand Prix of Qatar. Pulling down Monster Yamaha Tech 3's Cal Crutchlow by the narrow margin of 58 thousandths of a second, the defending MotoGP World Champion, Jorge Lorenzo unmistakeably topped the list. Meanwhile, Valentino Rossi who joined back the team after resigning from Ducati ensured the third spot as he finished just 13 thousandths behind Crutchlow. Rossi showcased a stunning performance in his come back. He was leading the racing most of the way. However, he had to eventually given up and resulted a third position for him.
Jorge Lorenzo is a Spanish professional motorcycle road racer. He has already bagged couple of MotoGP World Championships in his name. Despite that he has two 250cc World Championships in his account. As he gets the top position in the opening practice match, it is very clear that Lorenzo is in no mood to give away the Championship to anyone.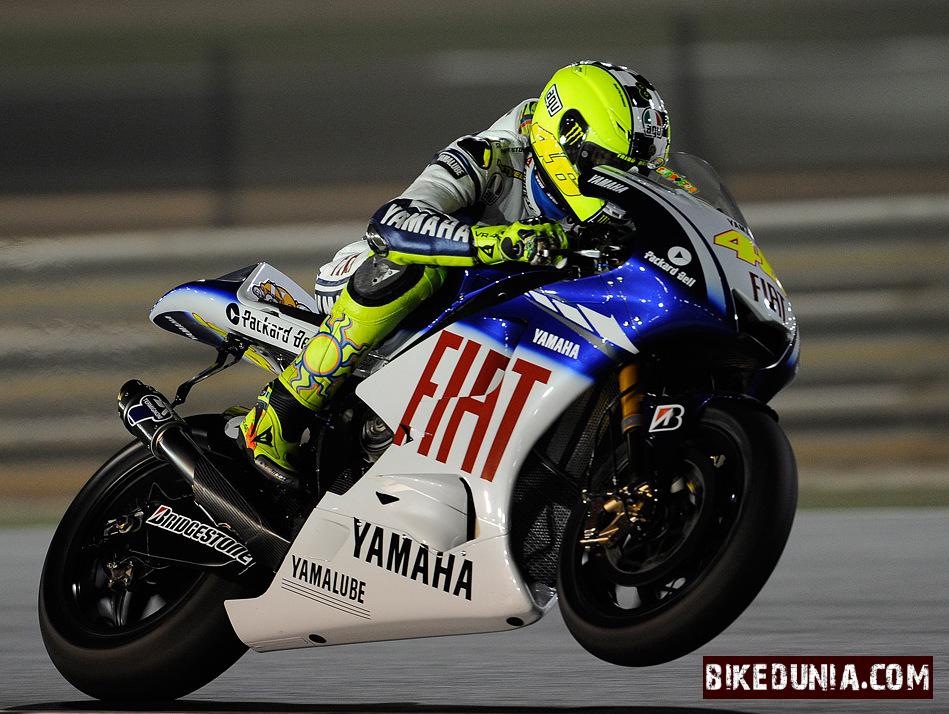 Cal Crutchlow is an English professional motorcycle rider who is yet to win a MotoGP Championship. However, he has won the 2009 Supersport World Champion.
Valentino Rossi is not at all a stranger for anyone who knows motorcycle racing. The Italian racer has bagged 6 MotoGP Championships so far.
"To start in this way, having three Yamahas in the top three positions, is very good. That means the track is very good for the brand and I started in quite an easy way the lap times came quite easily, so that's good. We need to improve in three aspects: the track will improve for sure, the riding will improve and I also think it's possible to improve the bike," said Lorenzo
"It's a great start for us because we have to confirm the improvement of the different setting from Jerez. Also, the bike was very good from the beginning and I was able to stay in first position for a long time. The lap time is not so bad and now we have to wait as the track condition will improve session by session, so we have to follow the increase of grip with the settings. In the meantime we can work on the small details and I can work on my riding, finding the best lines," commented Rossi.