The 2013 Polaris BRUTUS tells something more than that of a mere All Terrain Vehicle. It is obviously the first kinda purpose-built commercial vehicle of the American ATV manufacturer. The BRUTUS models are available in three variants – BRUTUS, BRUTUS HD, BRUTUS HDPTO. These machines starts at price tags of $15,199, and $17,999, and $23,999 respectively in the US market. However, there is no response from the company officials regarding its Indian launch.
All three off-roader are coupled with a 904cc, 3-Cylinder Diesel engine. The vast engine is capable to fire out a jumping power of 24 horses. Being a liquid cooled and having mated with an indirect injection fuel system, we can certainly expect maximum mileage for the unbeatable four-wheeler. Its transmission system is of Automatic Hydrostatic transmission with Treadle Pedal and is of drive system, On-Demand True AWD / 2WD / VersaTrac Turf Mode. The BRUTUS is provided of better engine braking system, Hydrostatic EBS.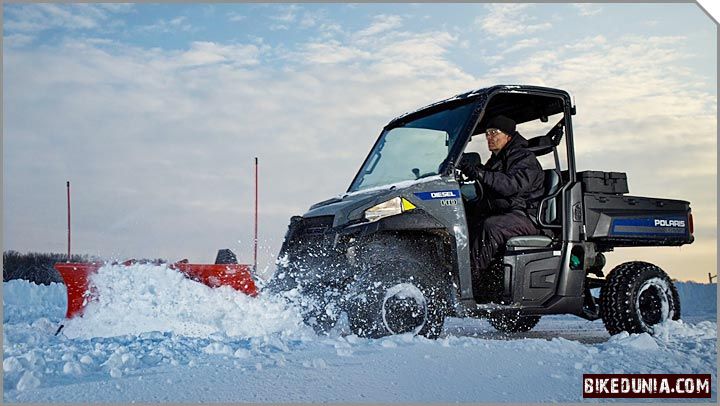 The BRUTUS brand has been specially developed under a collaboration with Polaris and Bobcat, eyed to crossover the features and functionalities of an ATV and a commercial vehicle on road. So suspension has very much importance as far as it is concerned to its purpose. The front suspension is embodied with Dual A-Arm 6 in (15.24 cm) Travel suspension. While, the rear portion gets preloaded with a Multi-Link Coil Over De-Dion Suspension 6" (15.24 cm) Travel suspension. This not only ensures comfort but also allows to insert more luggage rather than its rival can occupy.
Need not to panic anyway regarding its braking system, since the whole 4 wheels are wedded with 4-wheel hydraulic disc brakes with dual-bore front calipers. As it is packed with 25 x 10 -12; 489 front tyres and 25 x 11-12; 489 rear tyres, and steel wheels, what else is needed to increase the confidence of a rider even at high speeds.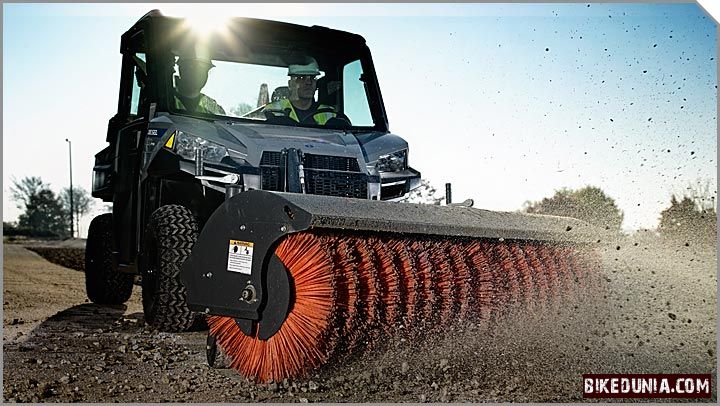 As I mentioned earlier, this machine is precisely made for off-riding. A 10 inch ground clearance and an 84 inch wheelbase pull the BRUTUS to explore where ever you wanna go. Its fuel tank capacity is 37.9 liters and maximum payload is 793.8 kg.
Key Features of 2013 Polaris BRUTUS
Instrumentation: Digital Gauge, Speedometer, Odometer, Tachometer, tripmeter, Hour meter, Gear Indicator, DC Outlet (2), Hi-Temp Light
Electric Cargo Box Lift: Optional Accessory
Cargo System: Lock & Ride with Integrated Box Tie Downs
Lighting: 55W low / 60W high, LED Tail
Hydraulic Power Steering: Standard
Alternator: 90 Amp
Cab: Optional Lock & Ride® PRO-FIT Can Enclosure Accessories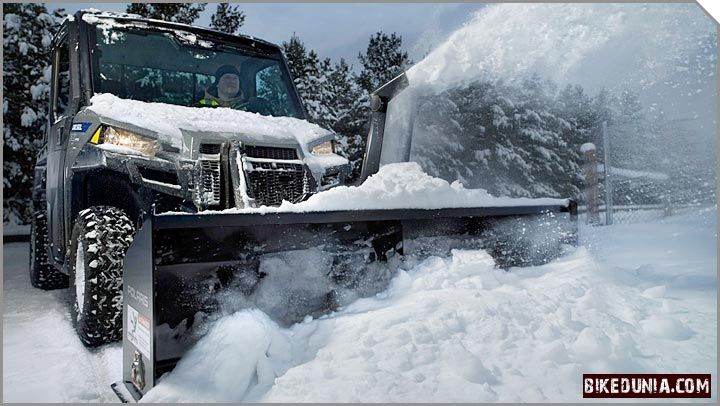 Key Features of 2013 Polaris BRUTUS
Diesel Power with Hydrostatic Transmission
567 kg of rear dump box capacity
Treadle Pedal to travel FWD and REV without shifting gears
Key Features of 2013 Polaris BRUTUS HD
Compatible with Hydraulically Controlled Front Attachments
Intuitive Joystick Controls Front Attachments
Key Features of 2013 Polaris BRUTUS HDPTO
Integrated Front PTO
Factory-Installed Cab with Heat, Defrost and A/C
Compatible with PTO and Hydraulically Controlled Front Attachments