In 2011, Japanese automobile giant, Honda Motor Company introduced a quarter litre engined motorcycle, the CBR 150R to challenge the world leader in the 250cc, the Kawasaki Ninja 250R. Introduction of the CBR 250R was warmly welcomed by the whole bi-wheeler industry in the world. As proposed, it became a big contender to the Ninja 250R. As Honda, the world leader in the two-wheeler industry launched a MotoGP edition of the CBR 250R in 2012, the entire motorcycle industry got something lively to cheer up along with the rhythm of Honda Racing.
Looks
The 2013 Honda CBR 250R Repsol looks extremely dashing. It has the ability to swallow the attention of the spectators. Since it is painted to be appeared as one of the machines on the MotoGP track, it becomes a true show-stopper. Thanks to the MotoGP theme paint. The all new graphics on the fuel tank, words scribed fairings, tricoloured wind-shield, and orange 5-spoke alloy wheels represents a racing feeling to anyone.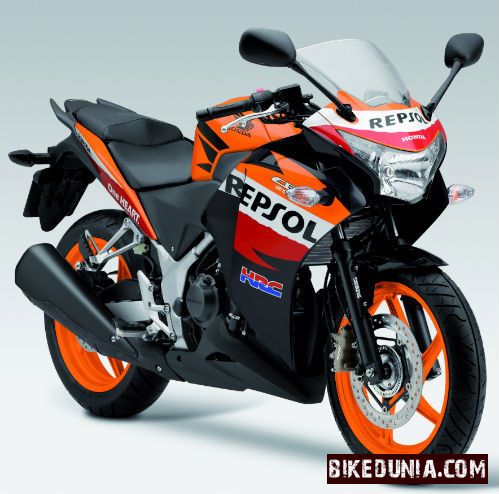 Engine and Performance
Since the CBR 250R already has a well proven record, no chance for any pin-drop error is possible. Mated with a powerful 249.6cc, CS250RE, 4 Step, DOHC, Single Cylinder engine, the machine generates a maximum power of 25 hp @ 8500 rpm and maximum torque of 22.9 Nm @ 7000 rpm. It has a 6 speed gear transmission. The machine goes exactly the moment you throttle up. Honda must be acclaimed for it is found almost zero vibration from engine.
Handling and Riding
The sitting position has been very well done. It makes even long drives easier. However, the handle bar and saddle arrangement is not at all intended for city drives. Coupled with a Telescopic suspension at front and a Swing Arm (Pro-Link Suspension System) at rear, the machine gives a room for the pillion rider. Both suspensions act very fast at turns, crests and humps. Meanwhile, both wheels are further rounded by a hydraulic disc brake at both ends. A 110/70-17M/C (ubeless tyre at front and a 140/70-17M/C tubeless tyre at rear provides better friction and stability on road, off road and wherever the machine is passing through.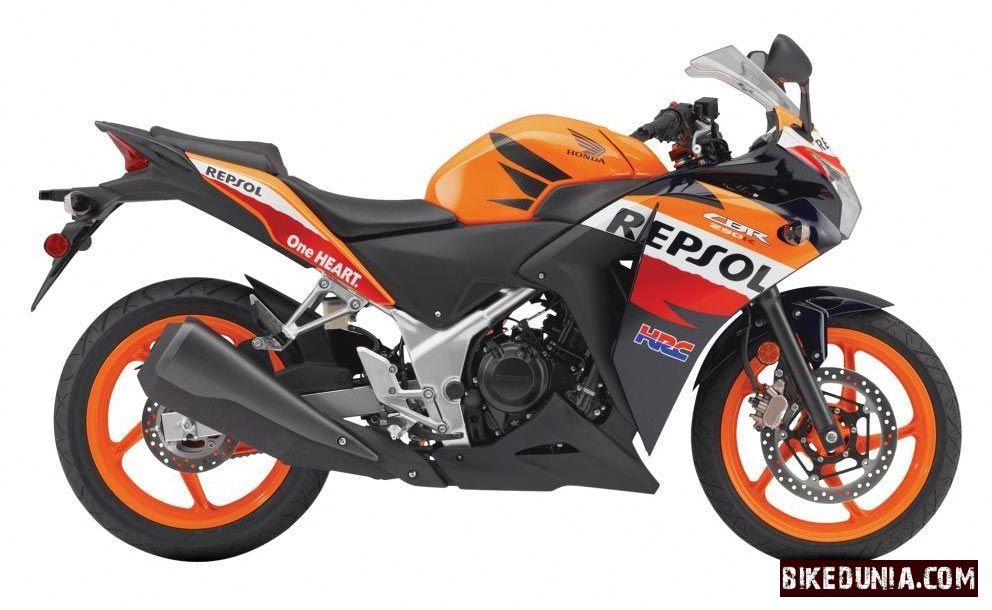 Verdict
Definitely, the CBR 250R Repsol edition is a worth for money product. Mated with performance, stunning appearance and easy handling, the bike precisely deserves a spot in every riders' track. The motorcycle is available in two options – Standard and ABS. As standard is more than enough for rough rides, the ABS version offers you to have a ride at the next level of motorcycling.