Now the hot news is spreading out that Polaris India Pvt. Ltd. a wholly subsidiary group of Polaris Industries, which manufactures snowmobiles, All Terrain Vehicles (ATV), and neighborhood electric vehicles will launch its motorcycle brand, Victory Motorcycles in India by the end of the year 2013.
"Yes we have decided to launch Victory Motorcycles in the Indian two wheeler market by the end of 2013. We realize the necessity of a high class cruiser brand that can extremely compete with the current leader Harley Davidson. Being India the second motorcycle production house in the world, there is no need of thinking anymore regarding Victory's launch in India. Nevertheless, we have some procedures to be done and that's why the launch date has been postponed to the end of this year," said Polaris India Managing Director, Mr. Pankaj Dubey.
The United States firm is currently selling premium cruiser motorcycles ranging from $12,499 (~ Rs. 6,75,000) to $29,999 (~ Rs. 16,25,000). But when it touches Indian soil it will cross Rs. 26 lakh for the high end Victory machines. So that would be a big question for the officials. At present, Harley Davidson's Touring Street Glide is the costliest production bike in the Indian shore, which is priced Rs. 24,56,000 (ex-showroom New Delhi).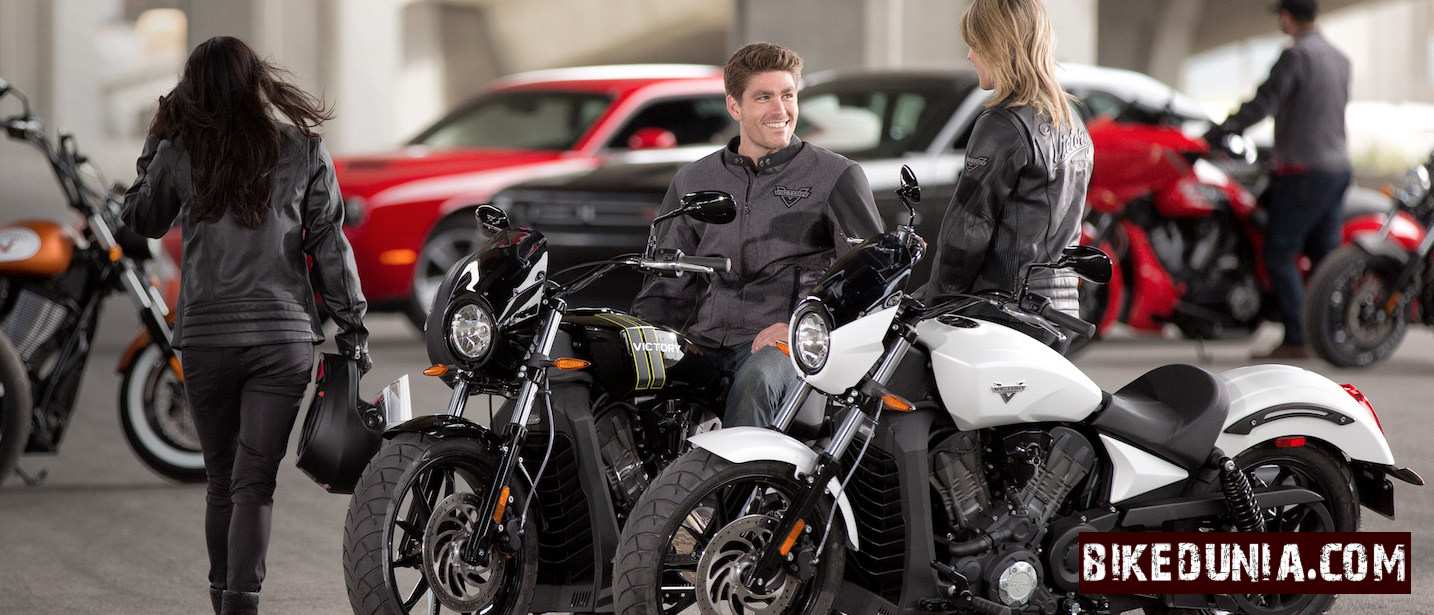 However, Dubey denied to specify the model which is gonna get firstly arrived in India. It was at the 2012 New Delhi Auto Expo when Polaris firstly unveiled its premium motorcycle brand in India. Meanwhile, the company displayed couple of motorcycles from its long line-up. The bikes were the Vision Tour and the Vegas 8-Ball.
The Victory Vision Touring is the entry level touring motorcycle of Victory Motorcycles. It is wedded with a gigantic 1731 cc, 4-stroke 50° V-Twin, air cooled engine. It has a 6 speed overdrive constant mesh transmission. It is priced $20,999 in the US market. Meantime, the other variant, the Vegas 8-Ball, is an entry level motorcycle of the entire Victory line-up. Mated with the same 1731 cc, 4-stroke 50° V-Twin engine used in the Vision, the Vegas 8-Ball powers up the rider to an extra vibrant motorcycle maniac.
Along with the introduction of Victory Motorcycles, Polaris India is planning to expand their dealerships and sales figures. The officials said that Polaris All Terrain Vehicles are much handy for the Defence, Police and paramilitary forces, since these rollers can be used in surfaces like beach sand, mining areas, thick jungles and rough surfaces.
"The 'Military Racer' from the company would be good for use in police and paramilitary forces, as it has infrared light, was a multi utility vehicle and could also fire 360 degree range, he said, adding negotiations are on with the departments and the company expects good orders from India," added Dubey.